Rightwised Glorified Sons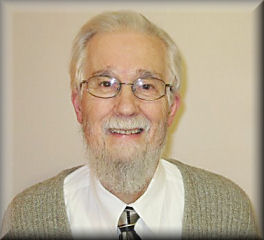 The ways of God are beyond our human comprehension and so marvellous in all their out-workings toward his goal — a vast family of glorified sons.
We often get caught up in the process that, as the saying goes, "We can't see the forest for the trees." The details drag our view downward and even may discourage us while in the midst of all of this stuff going on around us, there is more happening for our good than seems apparent. So many times my friend Chris Nijp would say, "All things work together for MY good." Yet, he was dying, and did. He saw more by faith than what this "spiritual giant" (me) could see. He is a part of that heavenly crowd of witnesses urging us onward.
The words came to me earlier, "These whom he called, He also justified; and these whom he justified, He also glorified." From recent studies I knew that he made RIGHTEOUS, and being made righteous [better RIGHTWISED], he glorified. We are not talking about some carnal idea of legal justification (Or, "just as if I died" nonsense because in Christ you did die), rather of being made the righteousness of God in Christ Jesus. As First Corinthians 1:30 says, "But by HIS doing you are IN Christ Jesus, who became to us wisdom from God, and righteousness and sanctification, and redemption,"
Romans 8:28 is one verse that can be hard to believe at times. In the midst of the storm your boat sinks with you in it. Down you go and all of God's promises to protect you sink with you. What do you have left? God. Or, self pity. Did you think that he failed or perhaps you somehow sinned just before the storm and deserved to drown? Does not God send the rain on the righteous and the unrighteous alike? We have been conditioned to think that God should spare his children from troubles and calamities. He didn't spare Job, but actually set him up for calamities to strike. In the midst of it Job could say, "Though He slay me, I will hope in him." Job 13:15. He saw the big picture.
"Those whom he foreknew," in past before our earthly journey he knew us intimately and planned for all of us to be "conformed, shaped to the likeness, become the same as, the Son." Jesus was to be the first in a family of many brothers — those from the same parents (Dare one say Father/Mother God?).
Now, because of his planning in wisdom, in awakened within us that yearning for him that may come in many ways, and then IN Christ did what he did for all — he rightwised us. Because we are made righteous (We don't have to feel righteous) we became and are candidates for the restoration of glory. Because he is now glorified, so are we. Our cry, as the chorus goes, is for it to be revealed in us.
Let your glory be revealed,
Wondrous glory be revealed,
The glory that you had with the Father,
The glory that you had before the world,
Let your glory be reveal,
Let your glory be revealed IN US.
Wait! Before glory there is something else. Preparation. There is a word that some "word" people have been taught shouldn't be in the Bible — "suffering." The truth is that suffering in its many forms is part of the reality that brings us past ourselves and into maturity. It is a divine principle that out of death comes life. When I told my wife of the news story I had read about a man who had a double lung transplant, she said, "Yes, and someone had to die." He had Pulmonary Fibrosis, an incurable disease few of us can relate to, where there is a marked increase of interstitial fibrous tissue and scarring in the lungs. He lived because someone died, we live because Jesus Christ died. Jesus said, "unless a grain of wheat falls into the earth and dies, it remains alone; but if it dies, it bears much fruit." (John 12:24).
It is in the furnace of affliction that the fire of God burns off the dross to bring us into conformity to Christ. (See 2 Corinthians 1:5-7, Hebrews 2:10). It is because of Christ's suffering that many sons are being brought to glorification. As Romans 8:18 reads, "For I consider that the sufferings of this present time are not worthy to be compared with the glory that is to be revealed to us." (NASU). Most translations have, "to be revealed IN us. Jonathan Mitchell translated it, "to be revealed INTO us."
John Gavazzoni recently wrote: "Has defeat met you at every turn as you have mustered up every ounce of determination to be the Christian you envision God wants you to be? Wonderful! Great! Defeat is good. Victory is better. But you get to the latter by way of the former. Now as God grants you clarity, think clearly about what I've written. Glory is our expectation, not futility, but true God-infused expectation expects futility on the Way, as part of the Way."
The above comments about defeat reminded me of the time, about 1980, when I was under tremendous pressure from all sides. One of our children was acting up and suddenly I blew up in anger. Within my spirit came these words, "Thank you Lord for changing me, Thank you Lord I'm not what I used to be." Talk about futility. Yet, these are the very things that God uses to produce what he is after. The ways of God are beyond our comprehension, yet they are right and pure and effective in their designated purpose to bring us into conformity to the Christ within. He is taking our "wrong-wised" condition and "rightwising" us.
We may not understand the "why" of our Father subjecting all of us to futility, emptiness (a frustrating need of something to fill the void), but this we do know, that his plans and purposes will be fully completed to the perfection that he desires. We end this article with Romans 8:19-20.
"For the anxious longing of the creation waits eagerly for the revealing of the sons of God. For the creation was subjected to futility, not willingly, but because of Him who subjected it, in hope."